Browsing articles in "Commentary"
In case you skidded into class too late and missed my Atlanta Fringe Audio piece, now's your chance to hear it on Soundcloud. Big thanks to Chris Alonzo and the Read On »»
This story is an apology to every woman who gave me a fake number, said "Let's be friends" but didn't really mean it. I apologize for not understanding why you'd Read On »»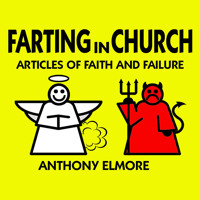 Hear my Fringe Atlanta Audio piece "Farting in Church" either at Soundcloud or at the Fringe Audio site. Hope you enjoy it.
Americans love appropriating other cultures' holidays into excuses to get drunk and puke like a freshman at his first kegger. St. Patrick's Day is March 17, which is on a Read On »»
The podcast version of the Write Club bout where I kissed the canvas is now available. Here's a slideshow of a Halloween story I performed for my old podcast. You'll Read On »»
On Wednesday, August 14 I will be going mano y femo as I defend my theme – calm. WRITE CLUB ATLANTA is like a rap battle for lit nerds. Two Read On »»
Will this be the piano that breaks the camel's back and send me over the edge? Like Punk and want to give Big Brother a shiner? Use my Department Read On »»
Big Brother is watching you, so why not make a funny face? Internet activists have been fuming since the release of Department of Homeland Security's list of watch words. Ever Read On »»
Last week my wife and I celebrated a nine year journey together as a couple, eight of them under the marriage contract. I wish I had harrowing tales of misfortune Read On »»
For the past few weeks I've been torn by malaise regarding where my writing is taking me. It's either taking me somewhere or nowhere. Ether I turn on my low-beams or high-beams Read On »»
2013 Terrible Minds Flash Fiction Challenge
Tags
Writers & Artists